koda amsterdam creates unique haute-couture accessories that are made of left over fabrics. koda works with Dutch designers. koda products are all made in Dutch ateliers. koda pieces are all different, because the leftovers differ every day..
The left over fabrics come from De Ploeg, De Ploeg is a Dutch brand of upholstery and curtain fabrics. The weaving mill De Ploeg was established in 1923 as a cooperative and has designed, developed, woven en sold fabrics ever since. The fabrics are well known for their high quality, craftsmanship and timeless design.
When creating orders there is inevitable cut waste: strips of fabric. De Ploeg collects this cut waste for koda.  The beautiful fabrics inspire koda designers to create unique accessories.
Sofar we have designed 3 products for koda Amsterdam
ROOSJE means 'little rose'. The embroidery "French knot" adds a cheerful element to the warm and comfortable woollen fabrics of De Ploeg that blend in with the colours of your home.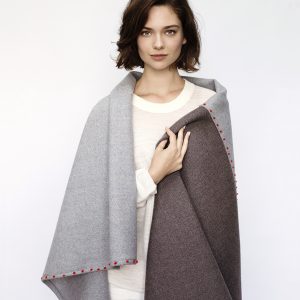 LOOM is based on the selvedge of the fabrics, the selvedge reveals the colours and textures of the yarns that where used to create a fabric. We made the selvedge the star of the show with this cushion. To make it easy on the working members of social atelier Pantar, to make LOOM, no zipper or buttons are used. We came up with a clever way of putting the fabrics together, four seems are all it takes to make LOOM.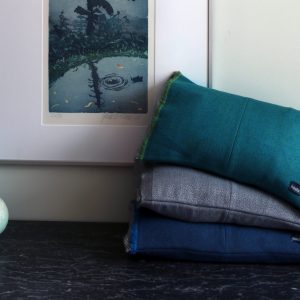 DEKEN is the amazing result of the craftsmanship of the women that embroidered this beautiful three coloured plaid and designer Roos Soetekouw. Handmade, no machine involved: it takes many hours to create this woollen wonder that warms your home – or yourself.